Posted on: The Guardian | June 12th, 2019
Hong Kong police fired rubber bullets and tear gas at protesters who had massed outside government headquarters on Wednesday in opposition to a proposed extradition bill that has become a lightning rod for concerns over greater Chinese control and erosion of civil liberties in the territory.
The violence marked a major escalation in the semi-autonomous Chinese city's biggest political crisis in years. It came after protesters earlier in the day forced the delay of a legislative debate over the bill, which would allow criminal suspects in Hong Kong to be sent for trial in mainland China.
Police used rubber bullets, tear gas, pepper spray and batons to disperse crowds of demonstrators calling for authorities to scrap the Beijing-backed law.
There were reports that one of the people who had been shot had sustained a head injury. Pictures and videos on social media purported to show people injured by rubber bullets or bean-bag rounds.
Protesters "must stop the violence", police chief Stephen Lo said, warning residents to stay away from a "riot situation".
He confirmed police were using rubber bullets, claiming that if officers had not used the bullets "protesters would have used metal bars to stab our colleagues".
Asked if the police would ask the Chinese army to help, he said: "Definitely not, at this stage."
Beijing reiterated its support for the extradition law at a regular press briefing on Wednesday afternoon and called rumours that the government would call in the Chinese military to clear protests "misinformation".
China's foreign ministry spokesman Geng Shuang told reporters in Beijing: "I can clearly tell you that is a fallacy being spread to deceive people and create panic."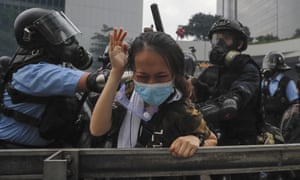 "The government just wants to scare the young people [by shooting tear gas]," Wong Shan, 80, told the Guardian. "The government really shouldn't do this to peaceful protesters. Some police were even holding rifles. Unlike the 1967 riot, nobody is wrecking shops. They are just voicing their opinions. The law is a very wrong thing."
"Hong Kong has become a dangerous place," said Freeman Yim, 36, a construction worker. "You can just imagine what Hong Kong will become once the law comes in. Everyone has come out, whatever sector they belong to. But the government doesn't listen. We cannot put up with this any more."
The clashes came after Hong Kong's politicians were forced to abandon a debate on the controversial bill after protesters surrounded the legislative council building and swamped the city centre.
Protesters wearing masks and cling film handed out by organisers to protect from pepper spray faced off with riot police who held up signs warning they were prepared to use force on the crowds to maintain stability. Water cannon was also used against the crowd earlier in the day.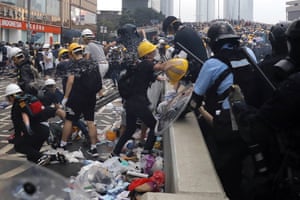 Some demonstrators dismantled and moved police barricades and chanted "retract, retract" and "no retraction, no retreat", referring to the proposed legislation many fear would let China spirit its critics across the border.
One protester, a 55-year-old lab technician who gave his name only as Chan, said: "I am here for Hong Kong, for our next generation.
"We don't trust China. Rules and laws can be arbitrarily applied and we can see this in Hong Kong already," he said, citing the recent disqualifications of pro-democracy lawmakers and jailing of the leaders of the 2014 Occupy Central movement.
Chan said if the law passed he would convert his saving to US dollars and seek to move abroad.
The proposed law had been due for a second round of debate in the 70-seat legislative council on Wednesday. The legislature's chair, Andrew Leung, planned to limit debate on the extradition bill to 61 hours, meaning it could be put to a vote on 20 June.
Lawmakers said on Wednesday that they were notified the session had been cancelled about 15 minutes before debate was set to begin, as protesters swarmed streets and areas surrounding the legislative complex. Traffic was brought to a standstill.
Leung said the debate would be held at "a later time to be determined by him" but outside, protest organisers warned the crowds to continue. Over a loudspeaker, the crowd was told: "Do not be happy too soon. Andrew Leung, the traitor, can resume the debate at anytime! Let's persevere!"
Observers have started to call the demonstrations "Occupy 2.0", a reference to 79 days of demonstrations that paralysed the city in 2014, also known as the Umbrella Movement. On Wednesday, protesters built barricades and transported supplies to the front lines of the protests, including snacks, face masks and umbrellas to defend against pepper spray or tear gas used by police.
Protesters instead filled the surrounding streets, with many camping overnight. More than 100 businesses closed on Wednesday, and thousands of parents and teachers called for a boycott of work and classes to show their opposition to the proposed bill, which would allow mainland China to pursue fugitives in the former British colony.
Protester Grace Chan, 30, who has a two-year-old, said: "I don't want my kid to grow up in a place where we have no sense of security. Although they say the law is for going after fugitives, it can be so easily used for political purpose."
Earlier, police searched cars and bicycles and surrounded protesters as the sounds of the hymn Sing Alleluia to the Lord wafted through the air, sung by a group in the crowd.
Demonstrators at a nearby underground station argued with police who were searching bags and checking the IDs of those attempting to reach the protests. A crowd gathered and chanted slogans calling on the police to leave.
Unions as well as groups representing parents and teachers called for a boycott and student unions of seven universities and colleges also said they would boycott classes. Several churches said they would hold meetings to pray for the city's leadership and peace for Hong Kong.
The Hong Kong aviation industry gathered 1,700 employees' signatures to demand its union initiate a strike while the union of the New World First Bus company condemned the government for ignoring citizens' voices and urged drivers to drive slowly on Wednesday. The Hong Kong Confederation of Trade Unions, which has 190,000 members, also urged its members to stay off work for the day.
Protesters have expressed concerns that the civil rights and freedoms guaranteed to Hong Kong under the "one country, two systems" arrangement will be quickly eroded under the new law as China often uses non-political crimes to prosecute its critics.
Despite the outpouring of opposition, including a march on Sunday that drew hundreds of thousands of people, Hong Kong's chief executive, Carrie Lam, said she remained determined to pass the law.
"To oppose this bill, some have called for radical actions," Lam said in a media briefing, referring to clashes between protesters and police outside the legislature shortly after midnight on Monday, after a largely peaceful, nine-hour protest.
In a tearful Wednesday morning interview, Lam denied she was "selling out Hong Kong" to Beijing, as protesters have claimed.
"I have grown up here with all the Hong Kong people," she told broadcaster TVB. "My love for this place has led me to make many personal sacrifices."
Official Chinese media did not report on the protests on Wednesday and mentions of the protests were scrubbed from Chinese social media platforms. Screenshots of foreign news reports of the protests were deleted from the discussion forum Douban and the search term "Let's go, Hong Kong" or Xianggang jiayou was blocked on the microblog, Weibo.
The legislative body is dominated by pro-Beijing politicians, making it almost certain the bill will pass. Supporters of the bill stressed it would apply only to those involved in serious crimes, while Beijing has claimed that opposition leaders and "foreign forces" had misled the public.
Observers worry about further protests and public anger if the bill is put to a vote. Dennis Kwok, lawmaker with the Civic party, said: "If the bill is put to vote, it will be passed. If Hong Kong people's peaceful voices are neglected, I cannot imagine how they would channel their anger and disappointment in the Hong Kong and Central governments."
To read the original post, click here.