Posted on: The Guardian| January 15th, 2020.
President accepts PM's resignation ahead of possible referendum of constitutional changes
Vladimir Putin has embarked on a sweeping reshuffle of Russia's leadership, accepting the resignation of Prime Minister Dmitri Medvedev and proposing constitutional amendments that would enable him to hold onto power even after leaving the presidency in 2024.
In a surprise move, Russia's government said it would resign in full just hours after Putin announced plans for a national referendum that would shift power away from a successor to the presidency.
Putin's shakeup sent shock waves through Russia's political elites, who were left pondering what his intentions were and speculating about future cabinet appointments.
The president is laying the groundwork as he prepares for a transition in 2024 that analysts say will likely see him abandon the presidency but remain Russia's dominant politician in a beefed-up role as Russia's prime minister or in the government's State Council instead.
The 67-year-old has in effect ruled Russia since 2000, making him the longest-serving leader since Stalin, and what he plans to do in 2024 remains the most important political question in the country.
In a televised speech before senior officials, Putin suggested amending Russia's constitution to limit a future president to two terms in office – he has served four – tightening residency requirements for presidential candidates, and letting parliament choose candidates for prime minister and the cabinet, in effect weakening the presidency.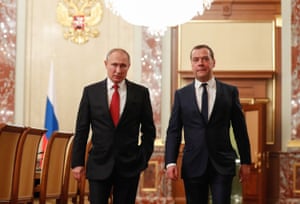 Shortly after the speech, Medvedev said that Russia's government would resign in full, allowing Putin to appoint new ministers. Medvedev, who also announced his intention to step down, was appointed to a new position as the deputy chairman of Russia's Security Council, which is headed by Putin. Russian media reported that government ministers were blindsided by the decision to resign.
Russia's tax service chief Mikhail Mishustin has been chosen by Putin as Medvedev's replacement, the Kremlin said later on Wednesday. The 53-year-old has worked in the government since 1998 and kept a low profile while serving as the head of the Federal Tax Service since 2010.
Putin presented his amendments to the constitution as a significant change to Russia's governing document, and called for the first nationwide referendum since 1993 to confirm them. An elections official said within an hour of Putin's speech that a referendum could be prepared as soon as the proposals to amend the constitution were formalised.
Margarita Simonyan, the head of the RT television station, wrote that "effectively, power in Russia is moving to the legislative branch". Less credulous observers saw an attempt by Putin to lay the groundwork for a transition of power in 2024, when he should, under the constitution, step down from the presidency after serving two terms back-to-back as Russia's head of state.
To read the original post, click here.